I was really getting used to flushing toilet paper, transit systems that were integrated with Google Maps, organized infrastructure, and pedestrian crosswalks that were respected. I was enjoying simply being left alone when I walked down the street. I was getting used to people who respected queues, waited their turn, didn't push and shove or budge their way to the front. I started assuming that all food was safe to eat and drinking the tap water was OK. I loved getting on trains that left the second they were supposed to and travelled at speeds upwards of 300km/hr to get you to your destination in a timely manner. We'd been enjoying all these 'privileges' (without thinking of them as such) over the past four months of our trip, ever since we left Latin America. Don't get me wrong; Europe was by no means perfect and there were some exceptions to the above, but they were just that: exceptions. By and large, Europe is very efficient and extremely Westernized. 
I'm not sure what I was expecting of Istanbul, but it wasn't what I got. In many ways, Istanbul is no different from every large metropolitan city in Latin America: the crumbling buildings, the awful infrastructure, insane drivers with no respect for traffic laws (if they even exist), people who have little sense of personal space, and constant hagglers always in your face. But of course, you can visit Istanbul and never notice half of the statements above – stay in a ritzy hotel in the renovated neighbourhoods and you can flush your toilet paper and the crumbling buildings have a facade of plaster to make them look historical yet still beautiful (although, I would argue still incredibly unsafe). And, on the other hand, Istanbul is vastly different from Latin America.
Possibly what shocked me even more than the environment was the prices: Istanbul wasn't very cheap! Coming from Eastern Europe I expected Istanbul to be cheaper or at least as cheap, as let's say, Budapest. However, eating-out cost more, as did groceries and water, and alcohol was triple to five times the price. If you follow the 'beer index' then Turkey is NOT a cheap country. We were paying more for a beer (in both grocery stores and restaurants) than any country we've visited thus far in the world except Canada. 
Expectations and shockers aside, we had a great time in Istanbul. We had six days in the city and three were with my friend Katrina and her boyfriend, Eric; they had flown down from Oslo to meet us! Obviously, we saved the highlights for when they were there. For our first three days we spent plenty of time just wandering the streets and one day taking the ferry to the Asian side of Istanbul (our first time back on continental Asia since Thailand in February 2014). You can see almost all of the old town highlights in a day. I know, it sounds crazy – but I can testify it can be done. The Blue Mosque, Hagia Sophia, the Grand Bazaar, the Spice Market, and the Basilica Cistern can all be seen in one day. Tack on the palace and maybe another mosque and it'll take you two days. Which is exactly how we spent our two days with Katrina and Eric. It was incredibly fun getting the chance to see Katrina again (it had been a couple years since our last reunion when I flew to Norway in April 2013). It was also a welcome change to be exploring with another couple for a few days. Because we did so much in Istanbul, I'm going to skip most of the writing and list the highlights below, in no particular order. 
Highlights of Istanbul
I have to start with the stray cats. They are everywhere. And they don't look (or feel) like strays. Locals leave food and water out for them and they roam the streets as if they ruled them.
But remember to save some of your attention for the stray dogs. We noticed that many have a tag in their ear and we looked up why. Supposedly, Istanbul has a program in place to spade/neuter stray dogs and give them rabies shots along with a general checkup. 
Drink freshly squeezed pomegranate juice. 
Get your shoes serviced (cleaned, shined, soles replaced and new laces) for a fraction of the price and possibly better workmanship than back home. 
Take the ferry to the Asian side of Istanbul. Even if you take another one right back. It's 4 TL (~$2 CAD) for the ride and you get a beautiful view the whole time. 
While you're on the Asian side, check out the fish markets.
Drink Turkish tea. Lots and lots of Turkish tea. It's enjoyed everywhere, by everyone, all the time. Our first glass was served to us on the above mentioned ferry ride. It's also commonly drunk while playing a game of backgammon. 
Keep in mind, Turkish delights are delightful and are best shared with friends, and a glass of tea. 
Stroll through the Grand Bazaar, although be cautious of buying anything – almost everything is counterfeit/fake and the starting price is usually two to three times what they'll take for it. The Bazaar is no longer a market for locals, it has sadly become mostly a tourist trap. 
Walk from Galata Tower to Taksim Square (or the other way) via İstiklal Avenue where up to 3 million will walk with you on an average weekend day. It feels and looks like a human highway.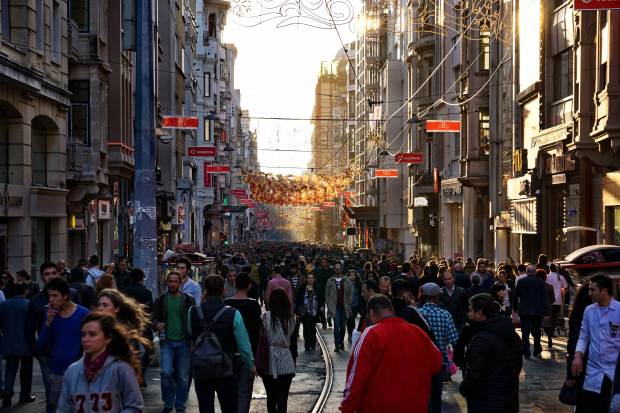 Visit Hagia Sophia which was constructed as a Greek Orthodox Cathedral in 537 AD and later converted into a mosque and is currently a museum. There were signs at the complex claiming it is the largest religious structure in the world and while this is far from true, it is beautiful and quite large. Unfortunately, a large portion of the inside is currently covered in scaffold (no big surprise here – we've nick-named 2015 the year of scaffolding).
Across from Hagia Sofia is the Blue Mosque. I enjoyed this visit even more and it was free! Keep in mind, you do have to cover your head and remove your shoes which leads to a strong 'smelly-feet' aroma inside. 
Plan your trip to be in the plaza between the Hagia Sophia and the Blue Mosque during one of the five times a day when the Call to Prayer is done. The two mosques take turns chanting to each other almost like a battle and the acoustics are amazingly powerful.
Walk across the Galata Bridge and note the hundreds of fisherman drinking tea and catching fish from the railing. 
And on the way back walk over the metro bridge (at least part way – then you can hop on the metro, the station is in the middle of the bridge over the river!)
Causually stroll through the streets. 
Don't forget to take lots of photos 🙂
Pay a visit to the Basilica Cistern which is the largest of several hundred ancient cisterns that lie beneath the city of Istanbul. The cistern was built in the 6th century during the reign of the Byzantine era and is capable of holding 80,000 cubic metres of water. The origin of the two heads Medusa heads is unknown but there are plenty of rumours surrounding them. 
Check out the awesome street art. There is supposedly also a set of rainbow stairs somewhere in the city (we didn't find them, although we didn't actually look).
*Back to the toilet paper issue mentioned earlier… in case you were curious: The bare left hand, not toilet paper, is traditionally used to splash water on the buttocks to cleanse it. Most toilets now have a valve next to them which provides water to a small nozzle at the back of the inside of the bowl for washing the left hand after it has been used for splashing and wiping. In April 2015, Turkey's supreme Islamic religious body, the government Diyanet, issued a fetva [religious legal determination] that the use of toilet paper for cleaning was permitted, but washing with water was still the preferred method.
---
Check out more photos on Flickr 
How did we get there: Direct flight from Budapest (Wizz Air)
Additional transport: Uber (Budapest), Shuttle/Metro (Istanbul)
Transport cost: Flight: $65 CAD per person; Other: $48 CAD (2 people) 
Transport time: Approx. 8 hours (Flight: 3 hours)
Recommended nights: We stayed 6, but feel 2 is more than enough.
Accommodation: Airbnb at $59 CAD per night (3 nights); Nar Galata Hotel at $68 CAD per night
Average Cost per day: $131 CAD/day for two people