Our first views of Cappadocia, a region in central Turkey, were from the window of our shuttle van which picked us up at the Kayseri airport and drove us roughly an hour to our hotel in Göreme. Although we had Googled the area and had an idea of what it would like, it was still pretty cool to see the mars-like landscape in person. When we arrived at our hotel the receptionist asked us if we had already signed up for the red, green or blue tour. Neither of us had a clue what he was talking about and excused ourselves to go Google it in our room. We clearly had done very little research of the area because the first thing that comes up is those tours and almost everyone (who doesn't rent a car) does a tour. We are usually fairly anti-tour but this one was the only way possible to see everything in the region in a limited time – and I was really interested in learning more about how the landscape was formed.
On another note, our hotel – Harman Cave Hotel – was amazing. We spent a little extra to stay in one of the many 'Cave Hotels' where the rooms are literally built into the rock formations. The people of Cappadocia have been building their homes into the rock formations for thousands of years. The soft rock is easy to hollow out and the temperature inside the rock stays moderate all year long (unlike the outside temperatures). The entire region is dotted with ancient abandoned 'cave-homes', as well as some that are still inhabited in the smaller towns. And of course, in Göreme, all of the cave dwellings have been expanded and done-up into gorgeous hotels. The town itself exists almost purely off tourism and only contained tourist shops, ATM's and restaurants. 
Our first evening we took it easy and treated ourselves to a Turkish dinner. This particular restaurant had GIANT pita bread pockets on display and almost all the meals on the menu were cooked inside a wood-fire stove. Our hummus and pita came first (check out the size of that bread!) followed by our main dishes. I opted for a specialty dish which is cooked inside a clay pot sealed with pita bread.
Cappadocia Green Line Tour
Our tour picked us up at 9:00 AM (timed so that you can complete a hot air balloon ride and tour in the same day – but that is way too rushed for our style!).  We opted for the "green line tour" with Stoneland Travel, booked through our hotel. Our tour guide, Selim, was fantastic; he was energetic, informative, knowledgeable, interesting and fun. (Note: much of what he told us I can't find reliable back-up information on so believe what you may) 
We started at a "panoramic viewpoint" overlooking Pigeon Valley where we learned about the importance of pigeons throughout Cappadocia's history. If you look closely, you notice many of the rocks throughout the valley are covered in small carved out nooks; these nooks are actually pigeon houses and the valley was once filled with thousands of pigeons, hence the name. We learned that the birds we consider a nuisance back home were important in Cappadocia for three main reasons. First, pigeon "shit" – as our guide referred to it – was used extensively as fertilizer. (Today Cappadocia is still predominately an agricultural region but most farmers have switched to chemical fertilizers.) Second, pigeon's egg shells were crushed and used to make plaster which served as the base for the frescoes inside the churches and buildings of significance. Lastly, "the smart pigeons" were used as messengers for the underground cities. 
The surrealistic geological formation of Cappadocia is the result of the intense volcanic activity followed by millions of years of erosion. The eruptions of the three volcanoes that dominate the Cappadocia skyline, Erciyes, Hasan and Melendiz Dağları, covered the region in layers and layers of volcanic ash, hundreds of meters deep some thirty million years ago. The volcanic ash compressed over time and became tuff. On top of the tuff lies a much smaller, and harder, layer of lava. Major temperature changes (including the ice age) caused the landscape to begin to split: water would seep into pre-existing cracks in the tuff and freeze causing it to split and creating isolated pinnacles. Erosion has worked on this soft tuff ever since to form the valleys and curious "fairy chimney" rock formations that make the region so unique.
Our tour then visited Derinkuyu Underground City, the largest known underground city in Turkey. It is an ancient multi-level city carved out of the volcanic ash (tuff) and completely hidden from above ground. The underground cities of Turkey were formed in the Byzantine era as protection for people during the Arab-Byzantine war; they were then largely used by early Christians for protection during the Mongolian incursions in the 14th century; and lastly the cities were refuge from Ottoman persecution.  The city is filled with creative defensive measures such as small tunnels with circular doors that can be rolled into place to block off the tunnel and protect against invading enemies. There are also countless escape tunnels and many tunnels connecting to other underground cities – many of which haven't been excavated and are still undiscovered. It is estimated there are about 200 underground cities in the region and only 36 have been opened. The city is said to have been large enough to have sheltered approximately 20,000 people together with their livestock and food storage's. We walked through underground stables where you could see troughs for feeding the animals, a wine cellar, food storage areas and the communal kitchen. Oil lamps were used for light as they gave off less smoke and cooking was only done in the evenings – smoke had to be let out through a chimney which could give away the position to an attacking army. Following the Greek-Turkish population exchange of the 1920s, most of Cappadocia's underground cities became uninhabited.
When we visited Ilhara Canyon we were told that it is the third largest in the world – which isn't true – and that it was formed by an earthquake split and then eroded from river after the ice age – which is quite possible. The canyon is 16km long, of which we hiked 4km. We got to see white plaster made supposedly from crushed pigeon egg shells in Daniel Pantanassa Church where the colours used for the 10th century frescoes of images from the new testament were brown from walnut, yellow from saffron, red from terracotta, and green from pistachio. 
One of our last stops was where our guide told us the very first Star Wars movie was filmed. Our guide told us some people were skeptical of whether or not the movie was actually filmed there but the government posted a sign assuring everyone it was filmed in Cappadocia at this spot (the sign was incredibly fake looking and could have been placed by anyone). Regardless of whether any movie was actually filmed here, the landscape is beautiful and does remind me of the Star Wars film. 
*Unfortunately, similar to the Ilhara Canyon not being the third largest in the world; there were no Star Wars movies ever filmed in Turkey. (Nor is the Hagia Sofia the largest religious structure in the world like it claims…. Dear Turkey: please stop making these things up! Tourists will still come to see your wonderful country, you don't need to lie! )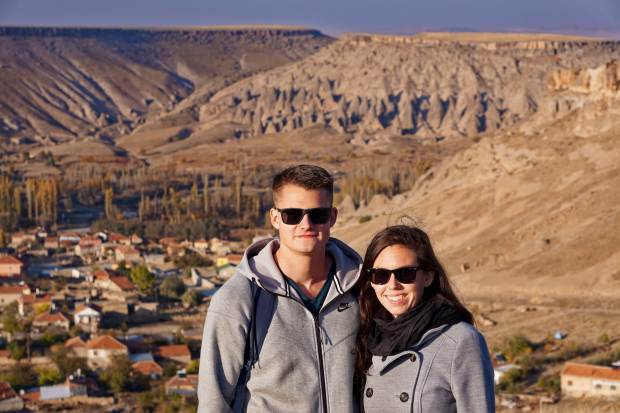 We made two stops at stores during the tour, one at a large gem "factory" that primarily sold Zultanite, a precious gemstone found only in Turkey that changes colours in different lights, and another stop at a dried fruit and nut market. I was later told that guides take between a 30% and 40% commission on anything their tourists buy at the stores and thus everything is sold at a premium. Good thing we didn't do any shopping! I also read that a significant amount of the so called Zultanite sold in Turkey is actually glass manufactured in India to also change colour under different lights.
Hot Air Balloon Ride
We were picked up at 5:10 AM to prepare for our hot air balloon ride. We were given a buffet breakfast, followed by driving out to our respective balloons in groups of 8 to 14. We flew with Royal Balloons who are rated number one and have an excellent safety record, something that was important to us after reading a few horror news articles from the past few years. We got lucky and had a small group of 9 people and Dan and I got our own section of the balloon basket to ourselves. Our pilot, Suat Ulusoy, was friendly and knowledgeable and made us feel safe the entire ride. I was amazed at how close the balloons fly to the rock formations and to each other – and how many are in the sky at once! The morning we did our ride wasn't the perfect clear skies and gorgeous sunrise we were hoping for but it was still the incredible experience I had hoped for. Oh, and the sun poked out just as we were landing so we got to enjoy our glass of champagne in the morning sun. Here's a sampling of some of the gorgeous photos we took.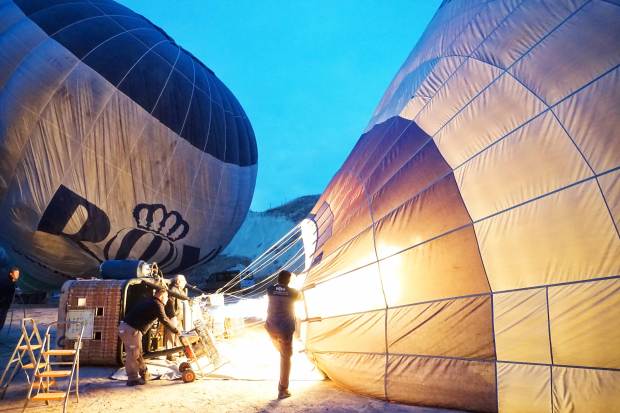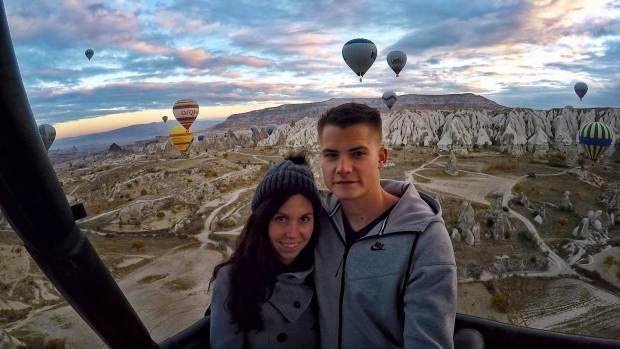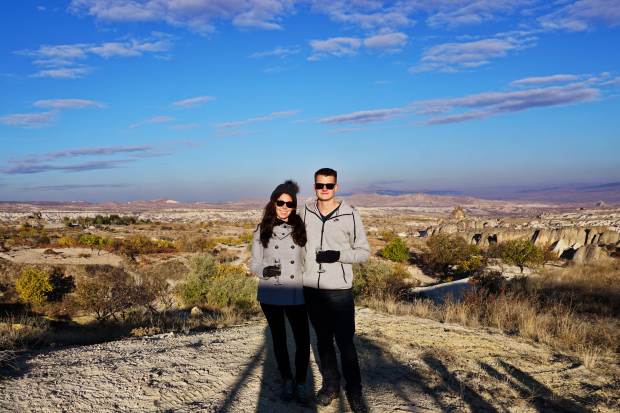 Both our tour guide for the Green Line and our balloon pilot talked about a recent Chinese TV show that featured the main characters (who are Chinese superstars) trip to Cappadocia. Supposedly, as a result, about 75% of tourists in Cappadocia this year have been Chinese and in October Göreme was basically a "little China" as everyone who could leave for the holidays (Chinese National Day) flew to Cappadocia! Suat said a similar effect happened with American tourists when Martha Steward visited. And then he modestly told us that he was the pilot who flew both the Chinese superstars and Martha Steward; oh, and he also flew Her Majesty the Royal Queen and Princess of Bhutan – no big deal. We had no idea we had gotten the chief pilot for Royal Balloons as there were five other groups that day. The three Chinese girls in our group almost died of excitement when they found out that their pilot was the same pilot who flew the superstars (confirmed by video on his iPhone) and they left the tour exclaiming they were basically famous and likely immediately going to post the photo they took with Suat all over social media.
Hiking through Pigeon Valley
The goal was to hike from Uçhisar back to Göreme through Pigeon Valley. We took a mini bus to Uçhisar and started by hiking up to the Uçhisar Castle. The castle, which was actually a fortification, is a large rock formation offering great views over the valley. From there, we made our way down into the valley. We didn't realize that there would be countless trails criss-crossing the valley. All the paths we found ourselves on ending up being dead-ends. Once we were satisfied that'd we seen what we came for and had fun exploring (and noticed the sun had begun to set meaning it was about to get cold) we cut back up the slope to the highway and managed to hitch a ride back to Göreme.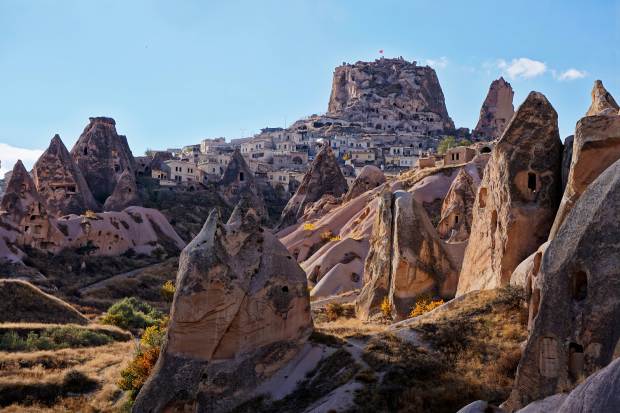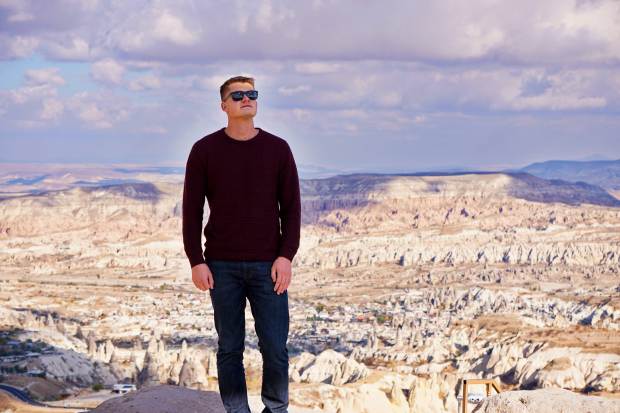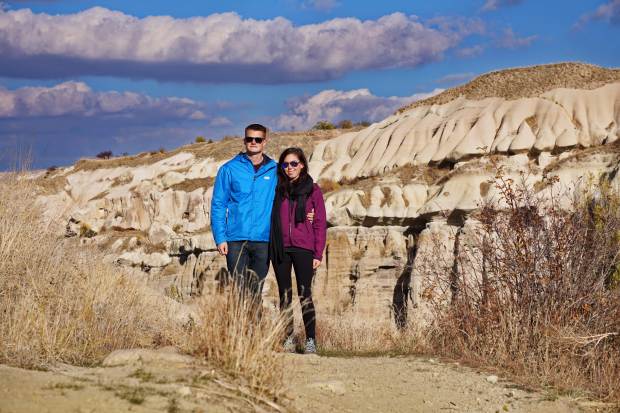 Overall, we had a fantastic time in Cappadocia. It's a place where you could spend weeks hiking and never run out of things to see. It's touristy enough that you'll find everything you need in terms of shops and places to eat but still far from touristy in that you can explore on your own. I think the people who "see the whole region" in one day – balloon tour in the early hours followed by a full day tour – are crazy and I would recommend at least two full days here. 
---
Check out more photos on Flickr  
How did we get there: Flight: Istanbul-Kayseri (Pegasus)
Additional transport: Airport shuttles
Transport cost: Flight: $51 CAD per person; Shuttles: $19 CAD per person
Recommended nights: 3 nights
Accommodation: Harman Cave Hotel at €45 ($65 CAD) per night 
Average Cost per day: $156 CAD/day for two people
*EXCLUDED from per day cost: Royal Balloon Trip Cost of €150 ($218 CAD) per person *winter rate special