Our last stop in Turkey was Selçuk which we chose mainly for it's proximity to the ancient city of Ephesus. We also read that it's only a short bus ride from Şirince, a neighbouring town famous for its wines. We spent four nights in Selçuk (you only really need two) because we wanted to relax before our overnight flight to Dubai followed by another overflight flight to India three days later.
The highlight of our four days was undoubtedly the ruins of Ephesus. Ephesus was built in the 10th century BC by the Greeks before it fell under Roman rule in 129 BC.  Between 1 and 4 AD, Ephesus reached its height in fame and prosperity as the capital of New Asia with a population greater than 200,000. Ephesus made most of its wealth and fame through being a major trade city with a port that served as a gateway to foreign countries. There are rumours that Turkey is considering once again making Ephesus accessible by boat by dredging a canal, but this would likely be a tourist attraction via an alternate way to visit the ruins and not serve much purpose as a port.
Archaeologists have spent over 100 years on excavating Ephesus and the majority of it still remains unearthed. Even with only a portion of the city having been recovered and renovated, Ephesus is considered the most complete classical metropolis in Europe and an excellent insight into the Greco-Roman world. The best restored ruin and highlight of Ephesus is the magnificent Library of Celsus built in 114 AD. The library is said to be capable of holding 12,000 scrolls in its wall niches, making it the the third-largest ancient library in the world.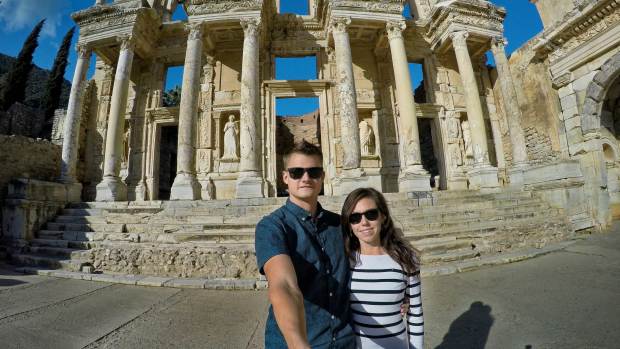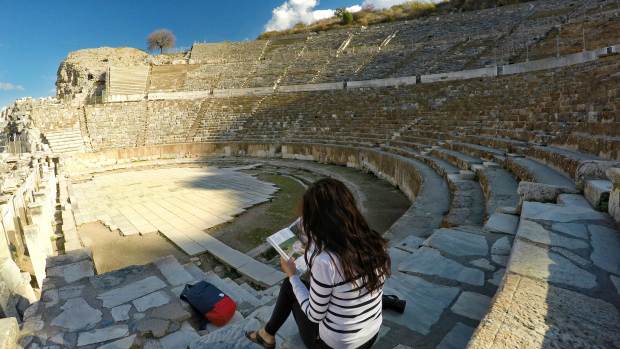 Closer to the city of Selçuk lies the ruins of the Temple of Artemis, one of the Seven Wonders of the Ancient World, and said to be the largest temple on earth at its time. The temple was an extension of the city of Ephesus and showed off the great riches and luxury of the city and attracted many visitors to the ancient city. Since part of the 'theme' of our trip is visiting the Wonders of the World, I hate to admit that I had no idea the Temple of Artemis was located near where we were staying (literally about a five minute walk) but was excited to visit the site (the temple was destroyed in a raid by Goths in 268 AD).
In the town of Selçuk are the ruins of the 6th century Basilica of St. John the Apostle and the Ayasuluk Kalesi (fortress) atop Ayasoluk Hill which provides excellent views over the city and surrounding hills. Both are connected and entered by a single ticket. The fortress (dated back to Byzantine, Seljuk and Ottoman times) has had ongoing work in recent years and restoration is now almost completed. 
Our day trip to the village of Şirince, known throughout Turkey for its wine tasting and production wasn't quite what we expected. The entire town was filled with overly-touristy stands and shops offering "free" wine tastings where you were usually expected to buy something. Buying something wouldn't have been such a problem if it wasn't for the fact that I didn't like any of the wines we tried. We did one full wine tasting where we were given an entire rack of shot glasses of different wines. Most of the wines were fruit wines (white and red) with a few dry red wines and one medium sweet white wine. There were none I could enjoy a bottle of, especially not at the marked up price they were being sold for, but I happily tipped the guy (who looked mad that we didn't buy anything) as I had gotten what I came for – a "free" tasting. After having enough of the wines (I didn't think I would ever say that!) we wandered away from the tourist-ridden streets into the hills a bit before heading back to  Selçuk.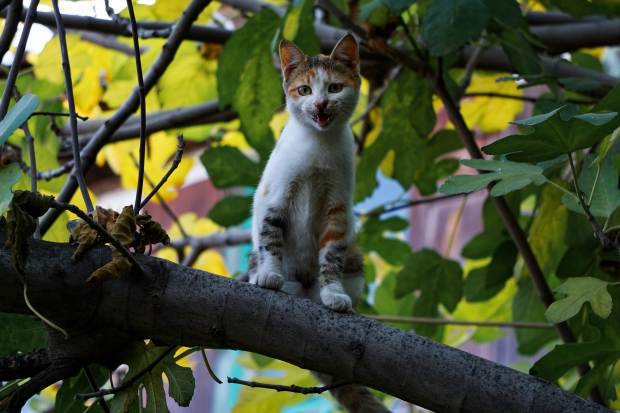 The rest of our time we spent enjoying Turkish food at local restaurants (Adana kebabs were my favourite) and catching up on blog posts and photos in our guest house which conveniently offered unlimited free tea and coffee! I also spent time in the town wandering through the streets and on more than one occasion shop owners would start up a conversation with me. My general rule of thumb is to say a quick and firm "No thank-you" when people call out at me trying to sell something but these guys were more clever with their words and caught my interest. I ended up spending hours having çay (Turkish tea) with them and learning, among other things, that sharing a cup of çay signifies 40 years of friendship.
---
Check out more photos on Flickr
How did we get there: Bus: Pamukkale-Selçuk
Additional transport: N/A
Transport cost: $14.5 CAD per person
Recommended nights: 2 nights
Accommodation: Ali Baba's Guest House at $43 CAD per night
Average Cost per day: $98 CAD/day for two people